University of Baghdad - College of Engineering
November 24, 2021 – November 25, 2021
The College of Engineering - University of Baghdad was established in 1921, and as part of its scientific engineering activities, the college used to organize scientific engineering conferences as part of these activities. This year, on the anniversary of its centenary jubilee, and under the slogan (College of Engineering - University of Baghdad in its centenary jubilee: an address for excellence and creativity in engineering education), the college will organize its eighth engineering and second international conference for the period (24-25/11/2021).
The conference aims to provide and document valuable engineering information and the updated research developments in the field of applied engineering sciences and exchange experiences in various fields of engineering and technology, in a way that serves the progress of the scientific research and the development of engineering and technological sciences as they represent the main pillar in the advancement and permanence of development. The conference will also provide the appropriate environment for researchers and engineers in various sectors to communicate with each other, to deliver their theoretical and applied research and studies, to provide solutions to various engineering issues, as well as to support the scientific research in the academic and applied sectors and to give the university a distinguished role in promoting global scientific progress and the development of human life.
ALL ACCEPTED PAPERS WILL BE SUBMITTED TO (AIP CONFERENCE PROCEEDINGS) WHICH IS INDEXED IN SCOPUS
To submit your manuscript go to Call For Papers.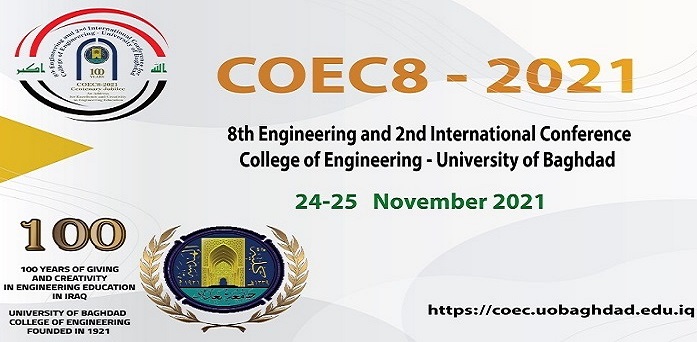 Conference Information
Copyright © 2021. All rights reserved by COEC. College of Engineering - University of Baghdad.